October 2009
On October 2nd, 2009 – the 26th Anniversary of Impact – a Medical Advisory Board was formed comprising senior, eminent medical experts from Mumbai representing the following disciplines: General Medicine, Opthalmology, ENT, Orthopaedics, Plastic Surgery, Dentistry, Ayurveda and Nutrition.
Impact India's Medical Adivsory Board will provide advice and guidance on the thrust areas of the Community Health Initiative for 1.5 million tribals in rural Thane District, Maharashtra, and also the scope and need for expansion of the activities on the Lifeline Express which has medically served 600,000 rural poor in remote locations in India.
May 2009
Government of India releases a National Postage stamp on the Lifeline Express. Impact India's book "Creating Rainbows" launched by Governor of Maharashtra.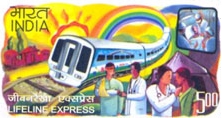 May 2008
Third Mobile Clinic donated by the Rotary Club of Bournemouth North, UK, and Mattel's Children Foundation, USA, for the Community Health Initiative.
May 2008
25th year of Impact India. Lifeline Express celebrated its 100th Project at Atgaon, Thane District, Maharashtra, having medically served 500,000 poor tribals, free of cost.
July 2007
All new five coach, custom built, for the Lifeline Express Hospital Train inaugurated on 12th July at New Delhi by Mrs. Sonia Gandhi and Railway Minister, Mr. Lalu Prasad.
December 2006
First Lifeline Express Mobile Clinic (Diagnostic Van) launched for early diagnosis in the remote villages of refractive and hearing impairment in Community Health Initiative
February 2005
"Community Health Initiative" launched in seven blocks of Thane District: Palghar, Talasari, Dahanu, Jawhar, Vikramgadh, Mokhada and Wada, covering a population of 1.5 million persons
June 2000
Gandhi Book in various international languages launched.
Expo Award Hannover, Germany.
May 1994
Impact wins the United Nations Grand Award and the IPRA Golden World Award for Public Service.
July 1991
Launched "LIFELINE EXPRESS" world's first Hospital on rails.
November 1989
Impact India launches "Cure on Wheels" a mobile clinic, suitably equipped with medical and surgical instruments, offering on-the-spot curative and diagnostic medical / surgical treatment for the disabled in rural areas.
December 1986
"Bombay Against Disability" - immunization of 500,000 children against all childhood diseases.
1984
"Polio-free Madras" campaign: immunized 300,000 children.
October 1983
Impact India launched in New Delhi on October 2.