IMPACT India's efforts and achievements have won worldwide support and acclaim, including:
AmeriCares India "Spirit of Humanity – Jury's Choice Award 2010"
United Nations Grand Award for Excellence in Public Service worldwide
Golden World Award for Public Service
EXPO 2000 Award for an innovative Public Service project
Golden Web Award for best web design and content
Inspiring stories The Lifeline Express has brought untold joy into the lives of thousands of people who have had sight, movement, hearing restored and facial deformities corrected.
Faith Restored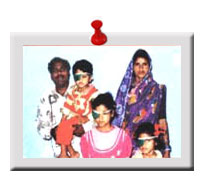 Operation on right eye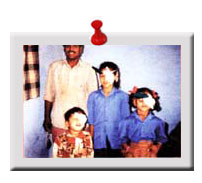 Operation on left eye
Mohit Ram, a barber from Bargaon village in the district of Durg, Madhya Pradesh has his joy tripled.
Misfortune struck his family 10 years ago when his child was born blind. Subsequently, he had two more children both blind. Despite a meager salary Mohit Ram took his children wherever he could for treatment in vain. Finally, at a medical camp at Raipur he was firmly told by the doctors that he should not harbour any hope that his children may regain vision.
When Mohit Ram heard about the Lifeline Express, he was reluctant to take his chance. However after much persuasion from his villagers, a few who had already benefited from the Lifeline Express, he took his three blind children to the surgical camp.
On 16th February 1999, all the three children were operated for Extra Capsular Cataract Extraction with posterior capsulatomy with Intra Occular Lenses (IOL) on the right eye. They showed excellent recovery. Today, Mohit Ram has his faith restored . All three of his children have a bright future with vision in both their eyes.
A honeymoon with a difference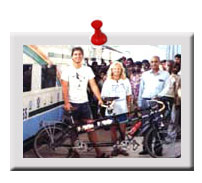 Alex and Dana
Fate smiled on IMPACT India when Alex Patrick - Smith chanced to sit next to Mrs. Zelma Lazarus, Chief Executive Officer, Impact India on a domestic flight. He was so fascinated with the ambitious Lifeline Express project and the far-reaching effects of its magical touch that he decided on the spot to spend a year long honeymoon with his bride-to-be, Dana, cycling around the world to raise funds for the Hospital Train.
This dream became a reality when the Patrick Smiths began the first phase of their journey in South Africa on 28th July 1995. The 3,075 Km of tedious travelling in Africa was completed in 8 weeks and raised funds GBP 25,000. Since they personally covered the cost of their expenditure, all funds raised went directly to IMPACT.
The second phase of Alex and Dana's travel was the Indian experience which covered 3000 Km of cycling on rough terrain. On 18th October 1995, Alex and Dana arrived in Raigarh to see the Lifeline Express serving the tribal belt of Madhya Pradesh. They were immensely satisfied to see for themselves the quality of service being administered to the most neediest of the country.
In Alex's words: "The atmosphere on the train is purposeful, efficient and relaxed. Everybody working was there because of their social conscience, keen at the opportunity to make some difference to the lives of those who had arrived to be treated."
Quotable Quotes
- Mr. Narendra Modi, P.M., India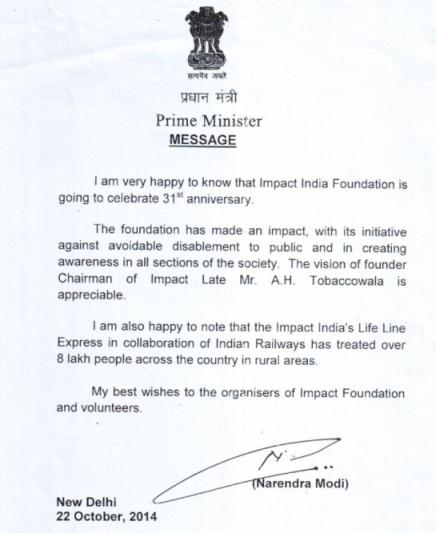 "I congratulate all who have worked to make the project a success. I have great pleasure in extending my greetings and best wishes to all those associated with the hospital on a train."
- Dr. Manmohan Singh, P.M., India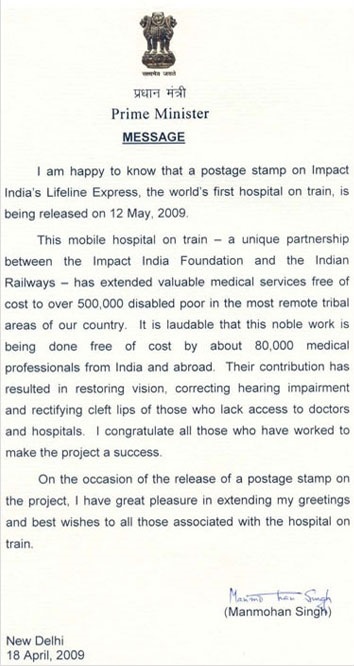 "Your Lifeline Express fulfills a real, pressing need ... bringing health services to the most backward regions of our country."
- Mrs. Sonia Gandhi, Chairperson, Rajiv Gandhi Foundation
"Thank you very much for helping the people of Amethi. We look forward to your next visit."
- Rahul Gandhi, Congress MP
"Many years ago when I had the privilege of meeting Pandit Nehru, he suggested that India's vast railway system could well be an ideal way of delivering health and other services to rural areas throughout the Sub-continent. LIFELINE EXPRESS is a brilliant implementation of that idea with far reaching consequences in preventing or curing disability and in promoting primary health and immunisation services. This innovative project is already arousing considerable interest in other countries and could well be the beginning of a whole new approach to health delivery. "
- The Late Sir John Wilson, Founder of Impact
"It sounds like the Impact India Foundation is accomplishing some wonderful things. I salute you for devoting your time, talents, and energy to improving the lives of disabled children throughout India, and I send my best wishes for continued success in your important work."
- Former U.S. President, Bill Clinton
"This is a wonderful initiative which should be replicated through out India. The Health Ministry, Government of India, will do everything necessary to update and modernize the Lifeline Express. Keep it up. Congratulations!"
- Dr. Anbumani Ramadoss, Health Minister, Government of India
What a beautiful initiative! We are proud that the Impact Lifeline Express hospital train is part of the Global Network of projects around the world of EXPO 2000"
- Ute Miszewski, Director, Projects around the World International, Hannover - On visiting the model at EXPO 2000