Process Document
Process Document is now available for replication of Community Health Initiative.
Impact India Foundation's (IIF) mission is sustainable, replicable, health models of national priority, using existing delivery systems and available infrastructure. For this purpose, IIF acts as a catalyst to bring together the skills and resources of the corporate sector, professionals, NGOs and the community, in partnership with the Government.
IIF's Community Health Initiative (CHI) is a model in support of the Government's National Rural Health Mission to establish a fully functional, community owned, integrated, health-delivery system. It covers a population of about two million tribals in rural Thane District, Maharashtra. Having exceeded its objective of 50% reduction in disability, through prevention and cure, by 72%, IIF seeks partners to replicate the CHI elsewhere in rural India. To facilitate this, a Process Document prepared by Tata Consultancy Services is available to interested parties.
Please contact Mrs. Neelam Kshirsagar, General Manager, Special Projects, IIF:
Telephone: +91 22 66339605/06/07. M: 9820237581
E-mail: nkshirsagar@impactindia.org
Training of Anganwadi (crèche) Workers: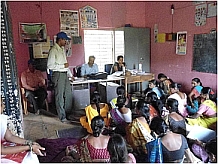 Capacity building of Government health service providers at the grass-roots level is vital to the sustainability of Impact India's interventions in the Community Health Initiative in Maharashtra. Impact India trains Anganwadi (creche) Workers on monitoring the growth of infants aged 0 to 6 years, and educates them on mobilising pregnant mothers to consume Iron & Folic Acid Tablets, take Tetanus Toxoid vaccinations and go in for Ante Natal Check-ups.
Training of Auxiliary Nurse Midwives: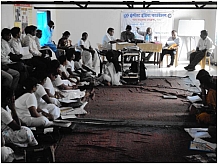 Impact India Foundation (IIF) trains Government's Auxiliary Nurse Midwives (ANMs) and Primary Health Centres' staff on verifying pregnancies through urine tests and to note the albumin content. IIF teaches ANMs to note that if a woman is under 18 years old or, if her weight is below 40 kgs or, if her Hb level is below 7 gram %, she is an at-risk mother. Treatment from the Doctor or Gynaecologist is essential. Impact India also trains ANMs on monitoring the growth of the foetus and on identifying infections in Post Natal Cases for immediate medical attention.