Curative Services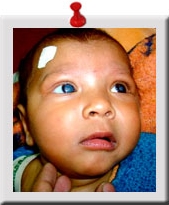 According to a Baseline Survey commissioned by Impact at the commencement of the CHI, the Tata Institute of Social Sciences, a leading social research agency, reported the following: "The percentage of population with specified is 5.5, which is very high when compared to the proportion of disabled in rural Maharashtra State. (1.8%).
The distribution of disabled according to the type of their disability shows that a majority of them have Orthopaedic (37%), closely followed by Hearing (32.8%) and Vision (28.4%) disabilities. A few (0.6%) of them have Cleft lips. 2.9 percent of them have more than one disability.
Identification:
Through the local State Health machinery, such as Anganwadi (crèche) workers, Accredited Social Health Activists (ASHAs), and Impact's own Field Workers disabled patients are identified, clinically screened at camps and treated. Impact has created partnerships with several Referral Hospitals in the area for free-of-cost surgeries to the rural poor.
Vision impairment
Hearing impairment
Cleft Lips
Orthopaedic cases
Dental Care
Dermatology