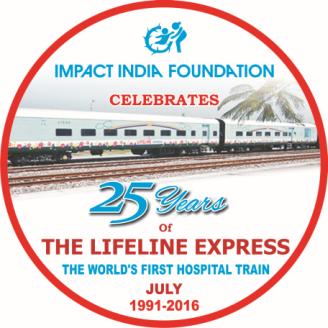 Impact India Foundation is pleased to announce that the Lifeline Express - the world's first hospital train - will be celebrating its Silver Jubilee on 16th July 2016 at the Chhatrapati Shivaji Terminus, Central Railway, Mumbai.
The Lifeline Express, over 25 years, has completed 173 sponsored projects having medically served over one million persons in the remote, rural interiors of India where medical facilities are scarce. All the given services are totally free of cost with the 'donated' services of 200,000 Surgeons and medical personnel from all over India and abroad, together with a large number of volunteers.
On this occasion Impact India Foundation wishes to thank its partners the Indian Railways, the Government of India, all State Governments, Public Sector Undertakings and Corporates who have sponsored the Lifeline Express projects in the remote areas of our country. We are also grateful to Impact India Foundation's Trustees, the Medical Advisory Board, and the Medical and Para-medical personnel who have volunteered their services to make this project successful and renowned world-wide.
The Lifeline Express will be on display at Platform No.10 from 17th to 19th July 2016 between 11.00 a.m. and 4.00 p.m.